Imagine you're a big fan of Argentinean football or hurling. In this case, it's crucial for you to find betting sites in Kenya that offer its leagues and many markets for every event. 22Bet gives Kenyans an opportunity to bet on popular and niche sports pre-play and during a game.
This sportsbook knows that various bet types and regular bonuses are a necessity nowadays, so it has that and much more. If you're contemplating whether you should create an account there, continue reading this review.
Register on The Website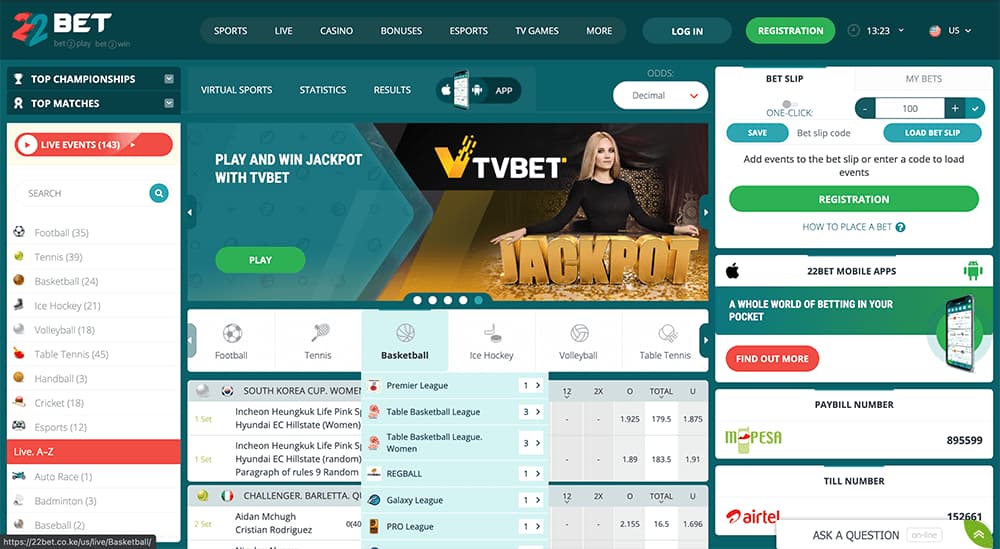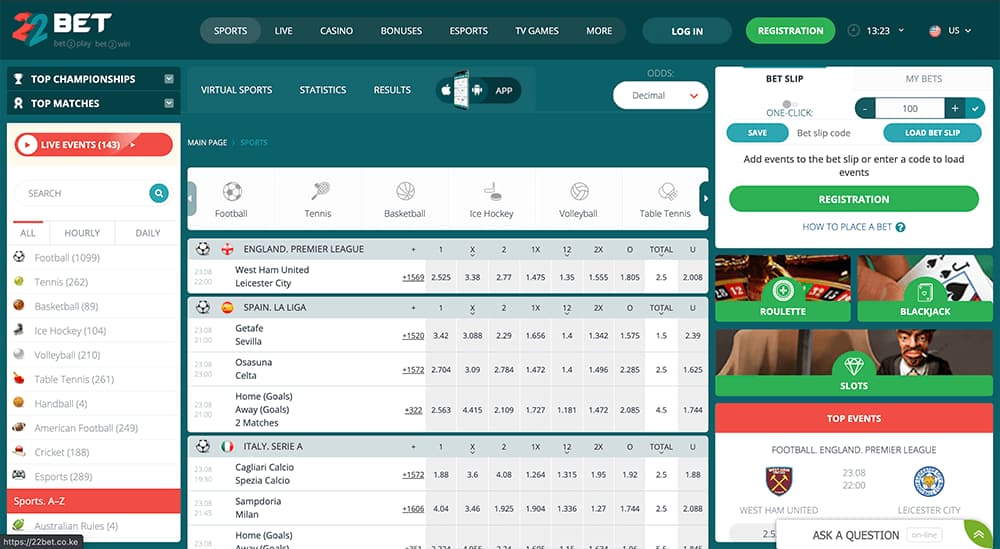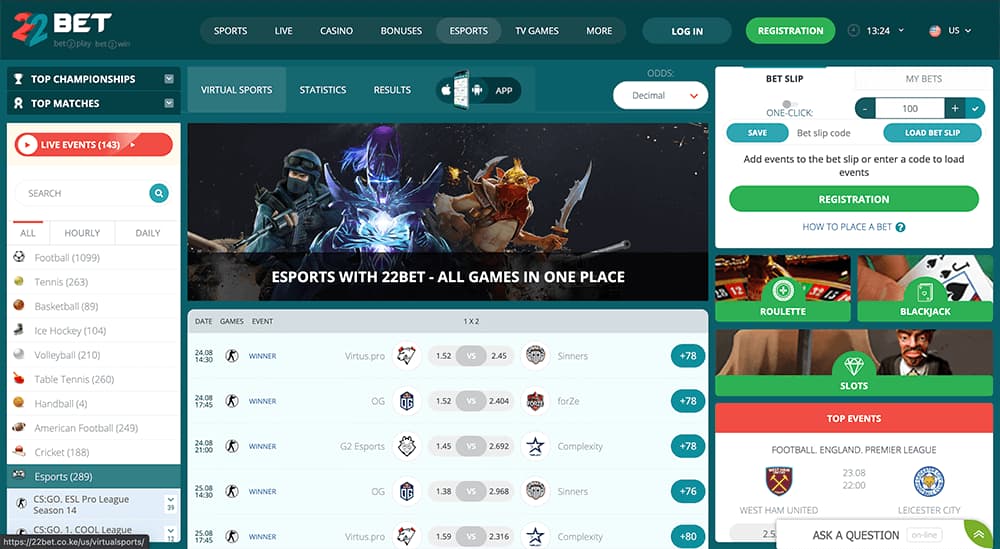 Enter Your 22Bet Login Details to Get a Welcome Bonus
We all know that a simple way to incite bettors to sign up is free money. 22Bet does something unique and offers two welcome bonuses: for those who like sports online betting and for those who're into casino gambling.
Kenyan bettors who finish the 22Bet registration process and fund their accounts for the first time get up to 15,000 KES. After that, they have seven days to wager the money five times. Make sure to choose accumulators with at least three selections and odds of at least 1.40 and you'll be done with the wagering quickly. If you get a jackpot from bonus cash, it will be real and can be withdrawn.
Sign up
22Bet Sportsbook: Why to Choose a Bookie
Kenyans who go to physical bookies know they offer limited coverage across major leagues, such as the NBA, Champions League, etc. On the contrary, the 22Bet site covers all famous competitions but also gives you an opportunity to bet on niche disciplines.
24/7 working hours are a norm for this sportsbook. It's important because whenever you see an opportunity and want to place a successful bet, you should be able to do it. The support team is also always online, so you can expect to have your issues fixed quickly. This sportsbook definitely knows how to be convenient.
Diverse Betting Markets
At 22Bet, every sports event is broken up into betting markets. Each of them focuses on a specific game feature, such as the winner, finishing order, or the final score. Famous leagues can have hundreds of betting markets. The more is the better in this case because the markets are used to offer odds on different outcomes.
You have an option to bet on one or more potential outcomes. For example, a market can feature a list of players participating in a competition, and there will be odds for every player. If you think a certain player will win, you select the player by adding them to the betting slip.
It's important to have a variety of markets because they allow bettors to zero in on a sports feature of their choice. When you think you can predict whether the final score will fall under or exceed a particular number, you want to bet on that and not on a winner. At 22Bet in Kenya, you can avoid placing speculative bets.
Varied Betting Types
This is what makes online sports betting so fun. You don't have to bet on a winner all the time; instead, you can guess a victory margin, total number of goals, and more. Below, we quickly go through the main sports betting options at Bet22:
Money Line. Here, you simply pick a winner.
Point Spread. This time, you bet on a margin of victory rather than on a team or a player. For example, if a team is priced at +7.5, it must either win the game or lose by fewer than 7.5 points.
Over/Under. Bet on a total to go over or under a set number. For example, a bookie sets a point total of 20 points. If team A scores 8 times and Team B scores 6 times, only 14 points were scored. Thus, the under is a winning bet.
Parlay. For this one to win, every bet in the parlay needs to win. If you have a four-bet parlay and only three of them win, you will have a losing parlay. Pro bettors like these bets because they can place a minimum stake and get a maximum payout.
Teasers. This bet is like a parlay but for point spreads.
Props. This time, the bet isn't tied to a winner. It allows you to bet on something that can happen in a game, such as the first team to score or a player to have a double-double (in basketball).
Middle. Here, bettors place point spreads on both teams at different lines. This way, either one or both predictions will win.
Futures. As the name suggests, you need to predict the outcome of an upcoming event. For example, you can guess what team will win a championship, its total number of wins, etc.
Take Advantage of High Betting Odds
In the past, bookies had only one odds type: fractional in Britain, decimal in Europe, and moneyline in America. Today, though, Kenyan bettors can choose how they want to view their odds. They can change the way of presenting the odds at 22Bet anytime by simply clicking the button.
This bookie also prides itself in offering competitive odds for a huge number of sports, both globally and locally. These include horse racing, football, basketball, ice hockey, greyhound racing, and more. After doing a comprehensive 22Bet review we can say that with high odds and more sports coverage being added all the time, you can find what you're looking for.
Over 45 Betting Markets
Huge Variety of Betting Types
Good Odds
Exclusive Betting Features
Overall 22Bet Rating in Kenya – 10/10
How to Bet Live at 22Bet
This is a fun feature of the sportsbook that allows you to stay immersed in the game. Odds change all the time depending on what happens, which keeps bettors more engaged. If you haven't tried to place in-play bets, here is what you can expect:
Take advantage of in-game circumstances. Even when you analyze statistics, it's hard to predict the outcome of a game before it starts. With in-play betting, you can analyze the game during the halftime break and come up with an accurate prediction.
Listen to your hunches. Before you place a live bet at 22 Bet, think whether a team's performance is influenced by a missed goal or some other event. This can even give you an advantage over the bookie.
Benefit from high odds. Live betting usually offers higher odds than pre-play betting, and they are even higher when wagering on the losing team. In-play wagering is especially fun when you bet on high-paced games like basketball.
Be knocked off your feet. Sports betting in Kenya can't get more exciting than when you wager live. Bettors get involved in the game while rooting for their team.
22Bet Casino Games and Slots
Some of you might think 22Bet is a sportsbook, so why would you play casino games there? However, the bookie takes this seriously and spoils you with choice by partnering with tried-and-tested software developers. Here is what 22Bet Casino can offer:
Simple, fast, and easy gambling. You can bet on casino games while sitting at your computer in pajamas or via your mobile device.
The online casino is always open. You don't have to worry about opening hours or lunch breaks.
Access to hundreds of games. These include slot machines, table games (roulette, blackjack, baccarat, and so on), and live dealer games.
No pressure. Especially if you're new to gambling and just trying to learn a game of skill, it can be tough to do it in a physical venue. You can be placed with professional Kenyan players with lots of experience. This can't happen online, which facilitates the learning process.
Play for free. 22Bet Kenya has many casino games with a demo mode that lets you use virtual money. It's fun in its purest form, without any risks or wins.
Place micro and huge bets. Traditional casinos usually have a pretty high limit for wagers. Since 22Bet doesn't have a casino building to maintain, it lets you place micro bets. At the same time, gambling sharks can wager big.
Use 22Bet bonus cash to get real money. When you sign up and choose a casino sign up bonus, you get real money. Spend them on games and cashout freely.
Free Mobile Betting App
Kenyan bettors with iOS and Android devices can download a free betting app. Simply go to the sportsbook, find the installation link on the upper right side of the Kenya betting site, and follow instructions. The app is lightweight, so it doesn't demand much from your device.
It's worth it to get the 22Bet app because it has a simplified interface tailored to mobile gambling. It makes it easier for mobile users to find games, teams, and sports, and bet on them. Every feature is responsive, every table has a clear design. Pages load fast, which is important when you bet in-game and track the outcomes.
Still, the bookie doesn't force you to download the app. You can use your mobile browser to log in to your 22Bet account and access all its features. The betting site in Kenya is mobile-optimized to ensure a hassle-free experience.
Banking Options Available to Kenyans
A bookmaker without suitable banking methods is a waste of time, and 22Bet knows it. So, it offers as many betting methods as possible to Kenyans. You can deposit and withdraw Kenyan shillings and other currency, use your eWallet or all major cryptocurrencies.
One option that's unique to Kenya is M-Pesa. This is a mobile banking service that allows you to transfer money through your phone. 22bet.co.ke supports this method, so you can quickly deposit as little as $1 through your smartphone.
Most of the time, you need to enter your banking information to deposit money. If you want to stay anonymous, use e-cash options, such as Teleplay and eCheque. These are money transfers that move your cash directly from your bank account to your 22Bet's account.
All transactions are free and all deposits are instant. 22Bet strives to finalize withdrawal requests instantly, even though sometimes they take longer.
Fast Customer Support
22Bet Kenya has round-the-clock support service accessible through live chat, phone calls, Contact Us forms, and email. Live chat and phone calls are the fastest options that are recommended to clear up small issues. Besides, there is a comprehensive FAQ section that covers all features of this bookie.
Legit License
22Bet is a licensed company controlled by Pesa Bets LTD that got its permission to offer legal betting and gambling services from the Betting Control and Licensing Board of Kenya. Besides, this bookie encourages responsible gambling and offers secure tools that help you control your activities. You can always find more information about them at the bottom of every page on the official website. You don't need to 22Bet login Kenya to read about the license.
FAQ Information
1. Is 22Bet available in Kenya?
Yes, the bookie operates fully legally in Kenya.
2. Can I use Kenyan shillings to make a deposit?
Yes, Kenyan shillings are among many other currencies accepted by 22Bet.
3. How fast can I withdraw my money?
Often instantly, but you can check transaction times on the Payments page.
4. How to register at 22Bet?
Press the Registration button, enter your basic information, and agree to the terms and conditions.